You are here
How to logout of remote DICE
Printer-friendly version
Here's how to logout of a remote desktop DICE session.
First, find the System menu. It's at the top left of your DICE session window.
From the System menu, choose Log Out. You will see your username - the picture shows the username cc.
Then find the logout box and click Log Out.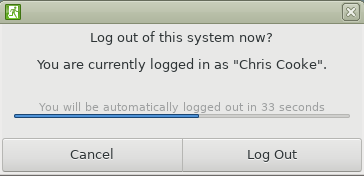 Error message
After you logout of DICE, Microsoft Remote Desktop will complain:
Your session ended because of an error. If this keeps happening, contact your network administrator for assistance. Error code: 0x4.
Don't worry - this to be expected. Microsoft Remote Desktop doesn't know that you have deliberately logged out of DICE - it just knows that the session suddenly stopped.
See also